While low-carb and ketogenic diets' popularity continues to gain momentum, many people are also starting to follow an altogether "zero carb diet", which is a diet that completely eliminates carbohydrate consumption.
A zero carb diet typically includes a variety of animal-based protein, like beef, eggs, and pork, as well as added fats, like butter, oil, and ghee.
Why No-Carb?
There are a variety of reasons that someone would eat a meal consisting of zero grams of carbohydrates, but the primary purposes usually relate to weight loss goals, gut healing, or, for some, a ketogenic diet is strictly followed and they have already eaten their allotment of carbs for that day.
Whatever the reason may be, eating a zero carb meal can be very delicious, enjoyable, and nutrient-dense!
The Carnivore Diet
Since many of the foods that contain 0 grams of carbohydrates are sourced from animals, many people follow a carnivore diet, wherein they solely eat from the animal kingdom and, in addition to eliminating all carb-containing foods, they also do not eat oils that have been sourced from plants, nuts, or seeds, like avocado oil or coconut oil.
Some carnivore dieters also completely restrict the consumption of dairy, while others may occasionally eat dairy-containing foods, like hard cheeses and heavy cream.
A Carbless Meal Plan
So, what does a daily meal plan look like for someone who follows a zero carb diet? Some carbless meals include cooked ribeye, sauteed shrimp, hard-boiled eggs, and roasted chicken wings.
For some of these meals and depending on your hunger, it may or may not be necessary to add additional fat during or after cooking. For example, a meal like a cooked ribeye is quite high in fat content and may not need additional fat added; however, a meal with a lean protein like chicken may be best cooked in butter.
No matter how you decide to cook and eat your meals, each of these meal choices are free from carbs.
When in Doubt, Test!
If you are unsure about whether following a no-carb diet will benefit you, test it out and see how you feel! You can either immediately eliminate carb consumption or you can gradually decrease consumption until you're eating solely protein and fat.
During the early stages of following a zero carb diet, you may feel slightly sluggish, which is completely normal; this is because your body is likely transitioning to a new energy source.
Be sure to note your hunger cues and, when you're ready to prepare a meal and eat, take a look at these carb-free recipes for a variety of options to satisfy your cravings and energize you throughout your day.
No-Carb Diet Recipes
Just like when starting any new diet, the most important thing that you should do to ensure success is to always be prepared! Bookmark these recipes and have food stocked in your refrigerator, freezer, and pantry, which will make it much easier to continue following a zero carb diet.
While zero carb recipes may seem challenging to find online, the 12 recipes you'll find compiled in this post are all tried-and-true winners!
Whether you're looking for something made with beef, like Mustard Roast Beef, salmon, like Easy One Pan Garlic Dill Lemon Baked Salmon, or even a caffeinated beverage, like Bulletproof Coffee, you're sure to love all of these no-carb diet recipes. In the mood for something sweet? Be sure to check out our favorite no-carb desserts!
—
1. Roasted Paprika Turkey Wings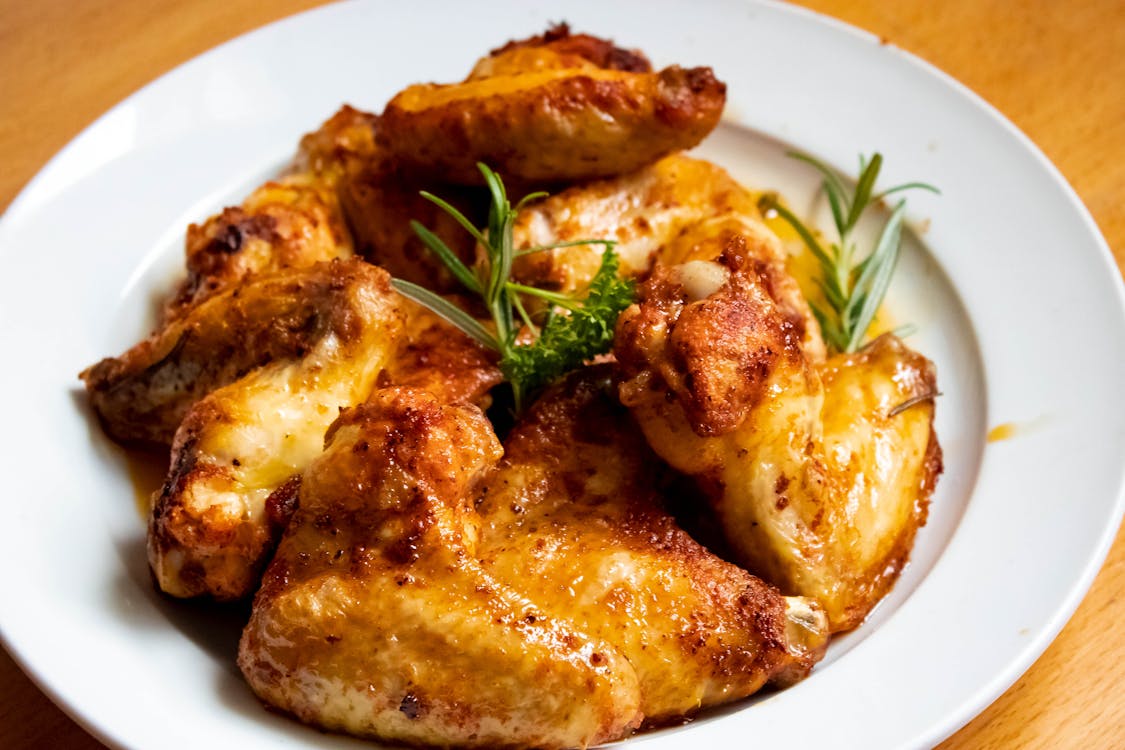 Made with only four simple ingredients, these turkey wings may be free from carbs, but they are not lacking in flavor! Coated in olive oil and paprika, these wings are delicious and so easy to make! If you're looking for no-carb recipes that require less than an hour of cooking, these Roasted Paprika Turkey Wings are the recipe for you!
Per serving: 780 calories, 50g fat, 0g net carbs, 76g protein
Get the recipe from Step Away from the Carbs.
—
2. Bulletproof Coffee
The popularity of Bulletproof coffee has gained significant momentum throughout recent years, which isn't too surprising! This delicious, energizing, and zero carb recipe is an excellent drink option to start your day off on the right foot.
If you're unfamiliar with Bulletproof coffee, it is a coffee-based drink that includes high-fat ingredients, which aim to satiate hunger without the addition of any carb-laden foods. In this recipe, in particular, the ingredients are simple and the entire recipe can be made in almost no time flat. The key to frothy Bulletproof coffee? A high-speed blender!
Per serving: 334 calories, 38g fat, 0g net carbs, 1g protein
Get the recipe from Diet Doctor.
—
3. Dijon Thyme Roasted Salmon
Full of nutrient-dense vitamins and minerals, salmon is a fantastic zero carb source of healthy fats. This no-carb recipe is a perfect addition to your weekly meal prep rotation as it's quite simple to prepare and stores perfectly in an airtight container in the refrigerator.
The key to perfectly cooked and flakey salmon? Bake it in a very hot oven for a shorter period of time. Delicious, juicy, and so flavorful!
Per serving: 186 calories, 9g fat, 0g net carbs, 25g protein
Get the recipe from Very Well Fit.
—
4. One Pan Garlic Dill Lemon Baked Salmon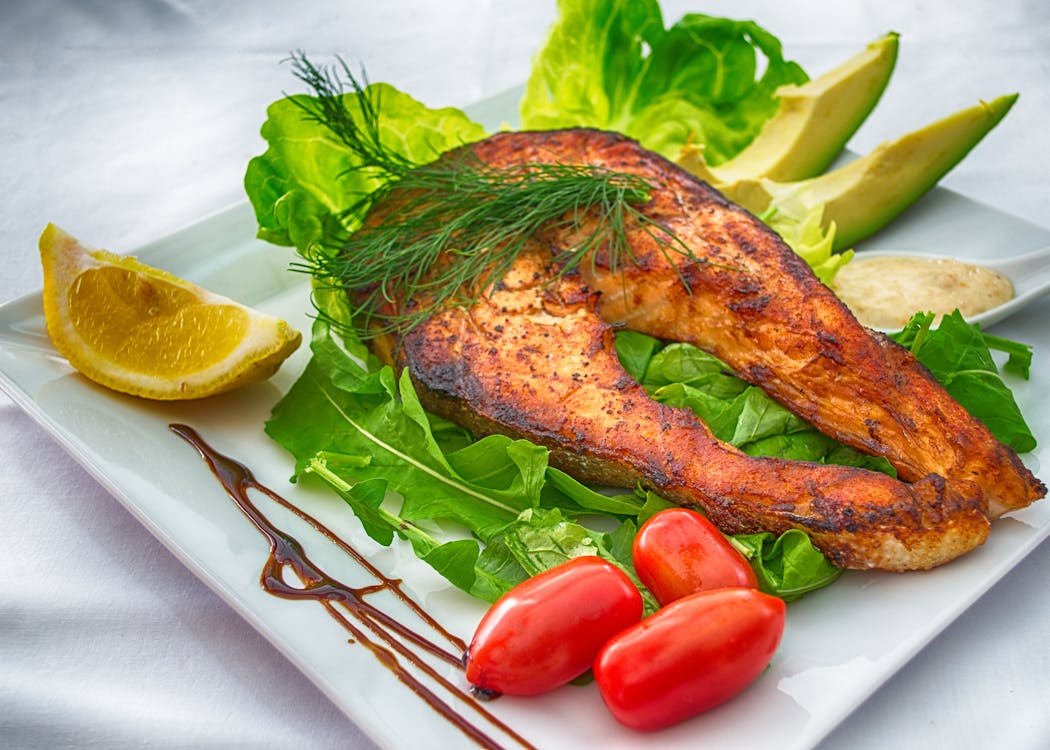 With all of the colors of ingredients in this recipe, you are sure to have a resulting meal that is bursting with flavor and with nutrients! Between the garlic, olive oil, fresh dill, and the salmon itself, this easy zero carb recipe is full of potassium, iron, Omega 3s, and magnesium.
If you are someone who prepares their meals in advance to enjoy throughout the week, this is a great recipe to save as a resource. Salmon stores quite well in the refrigerator by keeping its flavor for several days. To be sure the salmon stays fresh, though, it is essential to utilize airtight storage containers.
Per serving: 262 calories, 16g fat, 0g net carbs, 28g protein
Get the recipe from Cooking LSL.
—
5. Oven-Baked Parmesan Garlic Wings
These chicken wings are packed with flavor and anyone who eats them would never know they are a zero carb recipe. The key to making drool-worthy chicken wings? A delicious sauce! For this recipe, the sauce is a creamy mixture of butter, cheese, and spices which takes this zero carb recipe to the next level.
If you are planning to attend a party as a guest and are unsure if the host will have any food options that are safe for you to eat on your zero carb diet, we'd suggest making up a batch of these wings, as they are a perfect option for a party appetizer! They also serve as a fantastic choice for a quick weeknight meal for the family.
Per serving: 116 calories, 8g fat, 0g net carbs, 9g protein
Get the recipe from Joy Filled Eats.
—
6. Juicy Oven Baked Chicken Breasts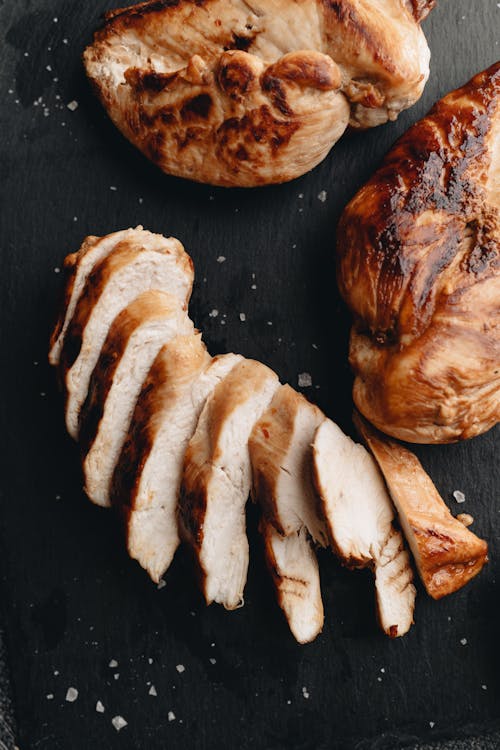 Yum! How juicy and delicious do these chicken breasts look? The key to each serving of this recipe yielding zero carbs is that all of the flavor is sourced from herbs and spices, which contain minimal-carb content. Even better? These chicken breasts can be prepped, baked, and ready-to-serve on the table in under an hour! It doesn't get much easier than that!
This recipe is proof that you don't need added carbs to get all of the flavor! Containing 0 grams of carbs and lots of flavor, this is a great dinner meal to serve the whole family.
Per serving: 163 calories, 6g fat, 0g net carbs, 24g protein
Get the recipe from Diethood.
—
7. Mustard Roast Beef
This recipe takes traditional beef rib eye and layers in mouth-watering flavors sourced from mustard seeds, sea salt flakes, and freshly cracked black pepper.
Cooked low-and-slow, this tender beef is the ultimate meal choice for special occasions. We suggest preparing it well in advance to allow the flavors to grow so that the dish really stands out to all that try it!
Per serving: 1,250 calories, 96g fat, 0g net carbs, 87g protein
Get the recipe from Donna Hay.
—
8. Keto Pork Chops
If you're looking for no-carb meals, you're going to want to bookmark these Keto Pork Chops. Rather than traditional bread crumbs, like those used in "Shake 'n Bake" pork chop recipes, these pork chops are breaded with a mixture of psyllium husk powder and spices. Psyllium husk is entirely fiber so, although it contains carbs, all of the fiber negates the carb content, thus making these pork chops a great zero carb diet recipe.
Per serving: 213 calories, 9g fat, 0g net carbs, 28g protein
Get the recipe from Ketogasm.
—
9. Crispy Baked Chicken Skin-ny Dippers
If you are looking for a crunchy and salty no-carb snack or appetizer recipe, this is the recipe for you! These extra crispy chicken skins are a perfect no-carb chip replacement. When following a no-carb diet, you may find yourself without many easy snack options, but we're sure that you will love munching on these chicken skins!
To ensure the chicken skins are properly prepared, be sure to follow the recipe instructions exactly, and we'd also suggest taking a few minutes to read the entire blog post to learn the exact way to cook the chicken skins so they do not shrivel up.
Per serving: 130 calories, 3.5g fat, 0g net carbs, 23g protein
Get the recipe from Keto Connect.
—
10. Steak of the Caveman
This no-carb recipe is the ultimate meal choice for nights you are craving a hearty steak. It is simple to prepare and extremely satiating!
Per serving: 525 calories, 43g fat, 0g net carbs, 38g protein
Get the recipe from Paleo Plan.
—
11. Keto Roast Chicken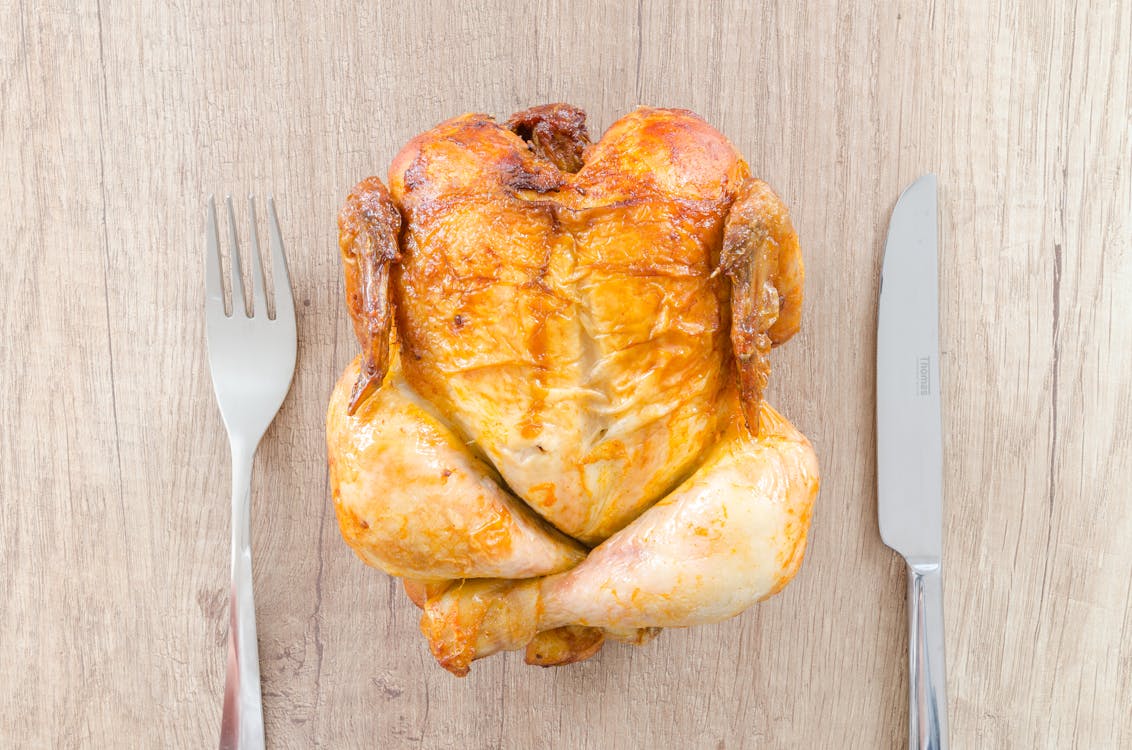 This keto roast chicken is a wonderful way to enjoy the whole bird. Baked in the oven, this chicken is juicy and flavorful. This recipe is both keto-friendly and paleo-compliant and is a perfect addition to a zero carb diet meal plan.
Per serving: 267 calories, 16g fat, 0g net carbs, 28g protein
Get the recipe from The Nourished Caveman.
—
12. Air Fryer Chicken
Air fryers have become a popular kitchen appliance and for good reason! Air fryers are small convection ovens and evaporate the moisture of the food they cook. The air fryer crisps up protein with minimal hands-on work and results in delicious meals, so if you follow a zero carb diet and you're looking to add a new tool to your kitchen to make meal prep easier, an air fryer is a fantastic choice. This Air Fryer Chicken recipe, in particular, will instantly become a family favorite!
The key to creating buttery chicken? Using chicken thighs versus chicken breasts. Chicken thighs are dark meat and, therefore, contain a higher fat content than the breast.
Per serving: 248 calories, 18g fat, 0g net carbs, 18g protein
Get the recipe from Spend with Pennies.