Whatever carb-restriction diet or lifestyle you prescribe to, there are times when you just want something sweet, and we all know resisting is easier said than done.
The key is to maintain a healthy relationship with your cravings by making compromises while slowly lowering the frequency at which you give in to those cravings. The better you get at managing your cravings, the fewer you'll have! Plus, when you make it less of a habit, it makes the sweets you do have feel like such a treat!
So what happens when you need dessert but can't have carbs?
We've got your back. We're going to cover a few thoughts on no-carb desserts and sweeteners and then give you six of our favorite zero-carb sweets recipes.
Why No-Carb Desserts?
Eating zero or low-carb is an effective health measure for a lot of people. From weight loss to gut health, skipping carbs can reduce irritants, bloated feelings, and help your body burn more of its fat storage (as is the case in ketogenic diets)[*].
Regardless of your reasoning, going for a zero or low-carb diet doesn't have to be tasteless. You can make all sorts of no-carb recipes and desserts that are delicious and full of good nutrients!
Diets That Advise No-Carb Sweets
Restricting carbs is most often associated with keto, the carnivore diet, and other diets that have low-carb phases like the Fast Metabolism Diet. The limits and restrictions of those diets vary, but it's smart across all of them to have a reliable list of meals and snacks you can prepare. The more your go-to meals fit into a zero or low-carb lifestyle, the easier it will be.
Zero-Carb Sweeteners
There aren't a lot of zero-carb sweeteners — most have a very small amount of carbs within them, and popular zero-calorie sweeteners are usually completely filled with carbs.
That being said, here are two zero-carb options for when you need a bit of sweetness:
Stevia: Stevia is a natural, zero-carb sweetener that comes from the South American plant stevia rebaudiana, which is part of the sunflower family. Stevia won't taste exactly like sugar, but it has no carbs or calories and won't raise your blood sugar or insulin levels[*].
Erythritol: Erythritol is made from fermented corn or cornstarch, and it's also a good way to get some sweetness without any calories or carbs[*]. Make a batch of this homemade keto syrup to keep around when you need it!
Note: These often don't work as perfect substitutions for sugar, so pay attention to recipes that offer substitution advice. You'll probably have to experiment a bit!
The Best Carb-Free Desserts
Okay! Onto our six favorite zero-carb dessert recipes. Pick your favorite or combine some of these to make something wonderfully delicious without breaking your diet!
Note: These desserts and sweets have 0g of net carbs per serving, but that could change slightly depending on the ingredients you use. Always check the nutritional labels to make sure the end product fits with your diet.
—
1. Zero-Carb Pink Puff Meringue Cookies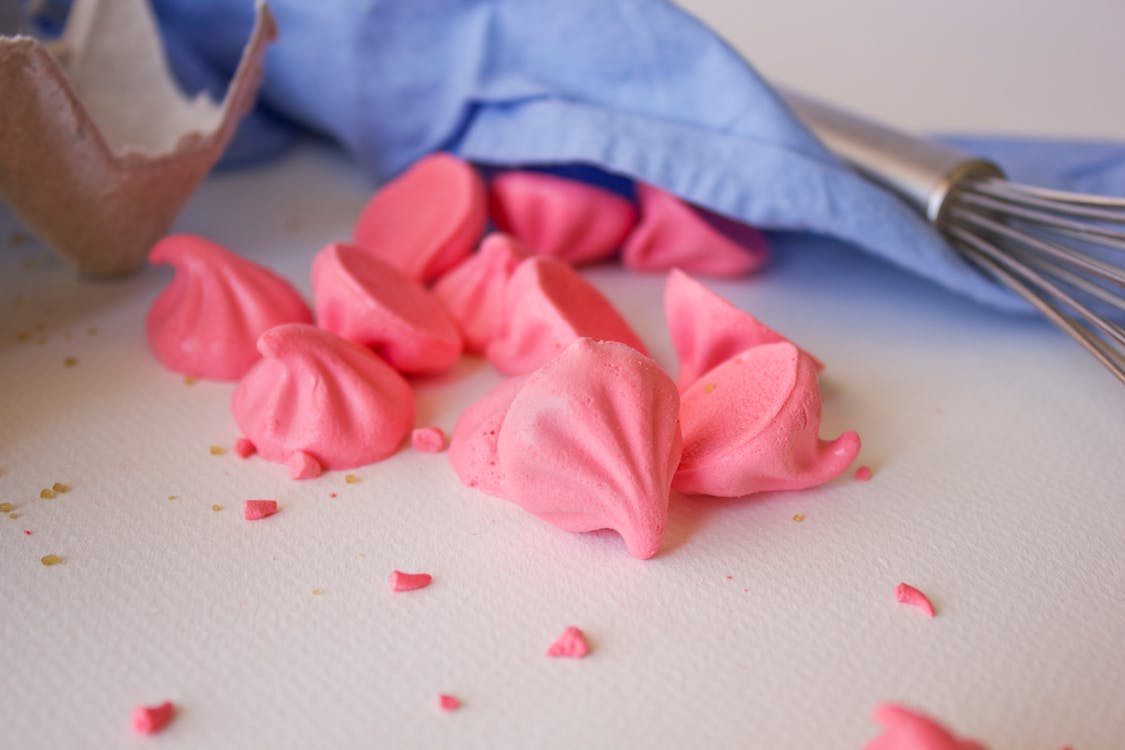 How good do these pink puff meringue cookies look! You can whip them up in less than 30 minutes, and they have 0g of carbs per serving. All you need are some egg whites, cream of tartar, gelatin, lemon, and the zero-carb sweetener of your choice.
Per serving: 3 calories, 0g fat, 0g carbs, 0.5g protein
Get the recipe from Baking Outside the Box.
—
2. Zero-Carb Caramel
This clever caramel recipe uses butter, heavy cream, and an alternative sweetener to whip up a really delicious caramel spread. There are all kinds of ways you could use this!
You could make some homemade keto bread, dip it in beaten egg, and whip up some keto-friendly french toast, use it to spice up some low-carb yogurt, or just grab a spoon and dive in!
Per serving: 89 calories, 9.3g fat, 0g carbs, 0g protein
Get the recipe from Keto Culinary.
—
3. Carb-Free Marshmallows
These marshmallows may look a little strange, but they definitely get the job done! By using gelatin and alternative sweeteners, the team at Low Carb Diet World came up with a clever way to get a bit of low-carb sweetness in your life. Drizzle some of the above caramel over them to make these marshmallows even more exciting.
Per serving: 15 calories, 0g fat, 0g carbs, 0g protein
Get the recipe from Low Carb Diet World.
—
4. Carb-Free Popsicles
Carb-free popsicles are great to have in the freezer for when you're craving something sweet. They are really simple to make, and they get the craving out without sacrificing a lot of calories. This recipe uses sugar-free jello and kool-aid to get the job done.
Per serving: 8 calories, 0g fat, 0g carbs, 0g protein
Get the recipe from Baking Outside the Box.
—
5. Zero-Carb Pancakes
Zero-carb pancakes!? How is that even possible? We thought the same thing until we found this recipe from Best Foodies for Life. By using whey protein, butter, and cream as its anchors, you can get pancakes that are savory and sweet.
Note: Double-check your ingredients on this one to make sure they don't include carbs and know that the nutrition facts are estimated. This recipe gives specific brand recommendations that allow it to be classified as zero-carb.
Per serving: 94 calories, 5g fat, 0g carbs, 10g protein
Get the recipe from Best Foodies for Life.
—
6. Homemade Gummy Bears
Sugar-free gummy bears aren't super glamorous, but if they can get you through a craving, then they're worth it! These are super simple to throw together, and you can make a big batch that will last you for weeks.
Per serving: 28 calories, 0g fat, 0g carbs, 7.25g protein
Get the recipe on Yummly.
—
7. Cinnamon Pork Rinds
I know. This sounds weird, but believe me, these cinnamon keto pork rinds are really good. It's right up that savory-sweet angle. If you're a fan of salted caramels or chocolates like I am, then I guarantee you will like these! You can also crumble these up into some almond milk and make a homemade keto cereal.
Per serving: 160 calories, 13g fat, 0g carbs, 10g protein
Get the recipe from The Girl Who Ate Everything.
—
8. Sugar-Free Meringue Roulade
Okay, okay. One more meringue recipe won't hurt, right? Just remember that only the roulade is zero carb — if you choose to serve it with fruit or something else on the side, you'll have to factor in those carbs.
Per serving: 15 calories, 0g fat, 0g carbs, 3g protein
Get the recipe from Ditch the Carbs.
—
9. Sugar-Free Cookie Dough Dip
And lastly, sugar-free cookie dough dip. While this recipe comes out to 1g of net carbs, if you make your own homemade, low-carb tahini, you can push this under 1g of net carbs per serving. It's not perfectly zero-carb, but it's pretty much as close as you can get!
Per serving: 134 calories, 13g fat, 1g carbs, 1g protein
Get the recipe from Sugar-free Mom.