If you've been looking for low-carb chicken marinade ideas, look no further! Though many popular marinades tend to contain a high content of added sugar and carbs, we are happy to share that there are countless ways to create low-carb, keto-approved chicken marinades. You'll absolutely love this collection of recipes!
These delicious keto-friendly marinade recipes are full of ingredients that are low in carbs but packed with flavor. Marinades for chicken are wonderful for preparing dinners ahead of time, as many of them can be prepared the night before, or the morning that you plan to serve your chicken dish.
Whether you like unique marinade flavors, such as lemon dill or peanut, or prefer the classics, like BBQ or ranch, you are sure to find some delicious marinade recipes within this post!
—
1. Awesome Grilled Chicken Marinade
Made from fresh and flavorful ingredients, this grilled chicken marinade is incredibly easy to make. Essentially, all you do is throw everything into a food processor and blend!
One of the best parts about this recipe is that if you find yourself with leftover marinade, you can store it in the refrigerator to use the next time you want some tasty chicken! We also love that this delicious recipe is great for more than just those who follow a ketogenic diet; it's also perfect for those who follow Whole30, too, as the recipe is free from gluten, grains, dairy, soy, MSG, and added sweetener.
Ingredients:
Garlic
Onion
Fresh rosemary
Fresh thyme
Lemon
Orange
Avocado oil
Kosher salt
Get the recipe from Low Carb with Jennifer.
—
2. Low-Carb Barbecue Chicken Marinade
If you're craving some classic BBQ chicken that is low in carbs and full of flavor, you've come to the right place! This chicken marinade is perfect for those who follow a keto diet, plus it's a perfect recipe to have on-hand as it's made with ingredients that you likely already have in your refrigerator and pantry!
With this recipe, the involved ingredients create a perfect consistency to create a marinade that's delicious no matter how you decide to cook your chicken!
Ingredients:
Olive oil
No-sugar BBQ sauce
Apple cider vinegar
Minced garlic
Onion powder
Paprika
Salt
Cayenne pepper
Get the recipe from The Kitchen Magpie Low Carb.
—
3. Maple Dijon Low-Carb Chicken Marinade
This keto chicken marinade is really something else! Packed with maple dijon flavor, this low-carb recipe is perfect for your next chicken meal. It provides sweetness without being filled with sugar or loaded in carbs.
Using sugar-free maple syrup, dijon, and liquid aminos (or soy sauce), this recipe requires less than 20 minutes to make. Though this recipe uses chicken thighs, breasts will work just as well. With only 0.4g net carbs per serving, you can't beat it!
Ingredients:
Maple-flavored syrup
Dijon mustard
Liquid aminos or soy sauce
Garlic
Fresh thyme
Get the recipe from Megan Seelinger.
—
4. Keto Greek Chicken Marinade
This is a great "I already have everything I need" recipe. All of the ingredients required to make this delicious keto Greek chicken marinade are refrigerator and pantry staples!
Try this tasty marinade next time you have company. It's a classic that will be loved and enjoyed by all who taste it! Super easy to make, this chicken marinade dish is a great go-to and one that I love to prepare when I'm expecting guests.
Ingredients:
Olive oil
Red wine vinegar
Lemon zest
Lemon juice
Garlic
Rosemary
Oregano
Salt
Pepper
Get the recipe from Keto in Canada.
—
5. Easy and Yummy Chicken Marinade
If you've got 40 minutes to spare, you have time to make this delicious marinade and cook the chicken! In no time, you'll be left with an easy and delicious chicken marinade dish to serve at tonight's family dinner.
You will absolutely love the flavors in this low-carb chicken marinade. With lemon juice, oregano, garlic, olive oil, salt, and pepper, the flavors are zesty and powerful. If you're in the mood for a southwestern twist, it is suggested to use lime juice in place of lemon juice, and cilantro in place of oregano. How delicious does that sound?!
Ingredients:
Lemon juice
Dried oregano
Garlic
Olive oil
Salt
Pepper
Get the recipe from Hip2Keto.
—
6. Keto Grilled Chicken and Peanut Sauce
If you're one for tangy flavors, you're going to LOVE this keto grilled chicken peanut sauce recipe. This recipe is a bit different than the others, as it introduces a sauce that's more saucy than marinade-y. It provides just as much flavor, if not more, as a traditional marinade!
Made with peanut or almond butter (your choice!), garlic, ginger, jalapeños, and a few other straightforward ingredients, this recipe is totally customizable. You can even make it a bit spicier by increasing the amount of jalapeño seeds you include!
Ingredients:
Peanut butter or almond butter
Fresh ginger
Garlic
Jalapeño pepper
Fish sauce
Rice wine vinegar
Lime juice
Water
Granulated erythritol sweetener
Get the recipe from I Breathe I'm Hungry.
—
7. Italian Grilled Chicken Marinade
If you're aiming for a juicy, tender, keto chicken dinner, this is the recipe for you. The marinade is fast, easy, and perfect for those times when you're craving marinated chicken, need something fast, or just purely aren't sure what to make!
Using ingredients like dijon mustard, Italian seasoning, coconut aminos, lemon juice, and more, this delicious low-carb chicken marinade is approved for a variety of diet lifestyles like gluten-free and sugar-free, as well as being paleo-compliant and Whole30-approved!
You're going to love this zesty, keto marinade for chicken!
Ingredients:
Salt
Pepper
Garlic
Italian seasoning
Dijon mustard
Coconut aminos or soy sauce
Olive oil or avocado oil
Lemon juice
Get the recipe from Life Made Sweeter.
—
8. 30-Minute Keto Grilled Chicken Marinade
This tasty marinade requires just 30 minutes and, after marinating, the zesty ingredients yield a grilled chicken so flavor-packed, you're sure to be going back for seconds! If you have some additional time set aside though, your chicken will taste even better as you can marinate the chicken for longer to really enhance the resulting flavors! With only 2 grams of net carbs per serving, you're going to want as much of this juicy marinade flavor as you can get.
If you're looking for an easy, to-the-point marinade, this is it. It's zesty and totally delicious. Packed with nutrient-dense ingredients that are straightforward and easy to find in your local grocery store. If you're not a fan of mayo, feel free to substitute it with full-fat plain yogurt!
This recipe is family and kid-approved and works great with either chicken breasts or chicken thighs.
Ingredients:
Mayonnaise
Tamari or coconut aminos
Lemon juice
Lemon zest
Dijon mustard
Garlic powder
Dried rosemary
Salt
Pepper
Cayenne pepper
Get the recipe from Kicking Carbs.
—
9. Ranch Grilled Chicken Marinade
If you've got kids at home, this is the perfect keto-friendly marinade for them; although, even if you don't have little ones hanging around, it's still worth making! This ranch grilled chicken marinade is absolutely delicious and full of those familiar flavors that we all love.
This keto marinade only requires 5 minutes of preparation time and about 15 minutes of cook time, depending on the amount of chicken you plan to cook. Other than that, you just need at least 30 minutes for marinating! Made with ranch, apple cider vinegar, Worcestershire sauce, buttermilk, and hot sauce, you are going to love this tasty chicken marinade!
Ingredients:
Ranch dressing
Avocado oil
Worcestershire sauce
Buttermilk
Apple cider vinegar
Parsley
Hot sauce
Salt
Get the recipe from That Low Carb Life.
—
10. Lemon Dill Keto Marinade
Lemon dill keto chicken marinade is a great option if you're looking for a marinade with as few ingredients as possible. With just six ingredients (including water), this marinade is perfect for chicken!
This simple marinade takes no more than 2 minutes to mix together, and from there it's all smooth sailing. What's most exciting about this dish is that each serving of this tasty marinade contains just 0.8 grams of net carbs. We can't wait for you to try this one!
Ingredients:
Avocado oil
Lemon juice
Dill
Capers
Pepper
Water
Get the recipe from Keto In Pearls.
—
11. Keto Paprika Chicken Marinade
This is another one of those extra special marinade recipes that could probably be made with items that you already have in your refrigerator and pantry. Those are the best, aren't they?!
Using olive oil, paprika, minced garlic, and a few other key ingredients, this is an easy keto friendly marinade that you're going to love. The best part about this keto chicken breast marinade is that it actually doesn't have to sit and "marinate" at all! To make this yummy chicken, simply coat the meat in the marinade mixture, stick it in the oven, and cook! Doesn't get much easier than that!
Ingredients:
Olive oil
Spanish smoked paprika
Lemon juice
Maple syrup
Minced garlic
Salt
Pepper
Get the recipe from Ruled.me.
—
12. Lemon Chicken Marinade
This lemon chicken keto marinade is perfect for keeping the chicken nice and juicy without skimping on flavor. In fact, this marinade recipe is packed full of intense and delicious flavors that you're going to love.
Using olive oil, garlic, rosemary, oregano, and lemon juice, this incredibly easy marinade recipe can be whipped together in essentially no time at all. Allow your chicken to sit for at least 30 minutes while it soaks in all of the delicious flavors. If you can, however, let it marinate overnight in the refrigerator for extra zestiness.
As described in the recipe, you can even add some chopped jalapeños for a little extra depth of flavor and spice!
Ingredients:
Olive oil
Garlic
Rosemary
Oregano
Lemons
Get the recipe from The Little Pine.
—
13. Keto Tandoori Chicken Marinade
If you love Indian food, you're going to be head over heels for this tandoori chicken! Though store-bought tandoori seasoning is typically high in carbs, this keto version is a perfect low-carb alternative.
There are two parts to this marinade recipe, so the ingredient list in the original recipe is broken up. Both parts are simple to whip together and many of the required ingredients overlap. Though this ingredient list appears longer than the other recipes in this post, it's still just as easy, requiring less than 15 minutes to prep time.
Ingredients:
Garlic
Ginger
Kashmiri chili powder
Salt
Lemon juice
Olive oil
Greek yogurt
Cinnamon
Cumin
Paprika
Allspice
Garam masala
Get the recipe from My Keto Kitchen.
—
14. Garlic Parmesan Chicken Thigh Marinade
This garlic parmesan chicken marinade is keto, low-carb, and gluten-free! It's perfect for chicken thighs but is also incredibly tasty when used on chicken breasts. You're going to love it!
With a prep time of just 5 minutes, how can you possibly go wrong with this recipe? It uses ingredients such as parmesan cheese, basil, garlic, sea salt, and olive oil.
This yummy keto chicken breast marinade contains just 0.5 grams of net carbs per serving! Talk about a great option for keto chicken dinner nights!
Ingredients:
Basil
Parmesan cheese
Garlic
Salt
Pepper
Olive oil
Get the recipe from Ketogasm.
—
15. Low-Carb Garlic Chicken Marinade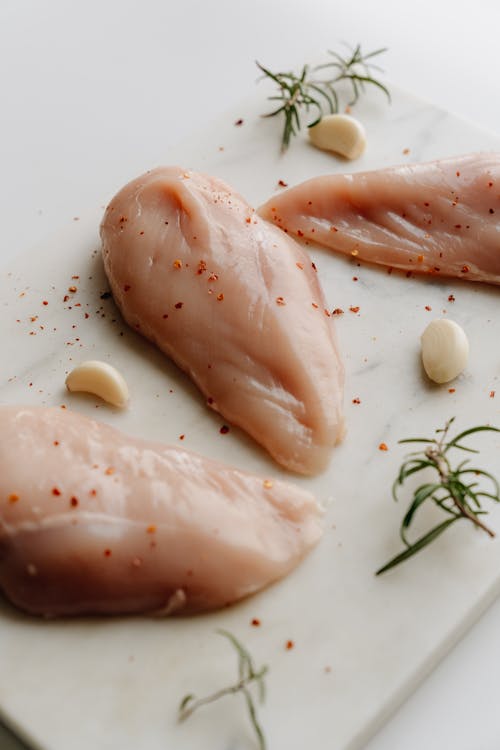 You can never have too many garlic recipes, and this chicken marinade proves it! Adding garlic to savory and protein-packed dishes is always such a tasty option, and it's the MVP ingredient of this delicious low-carb garlic chicken recipe.
Using Herbes de Provence, olive oil, Dijon, and a few other simple ingredients, this chicken marinade is the perfect, easy, go-to keto recipe. This chicken only contains 4 grams of net carbs per serving. It's a tasty dish that's perfect for the ketogenic diet!
This recipe includes a number of ways to actually cook the chicken, so you can use whichever method best suits your preferences. You can use an Instant Pot or a traditional skillet! Either way, the resulting chicken marinade is going to taste incredible.
Ingredients:
Herbes de Provence
Olive oil
Dijon mustard
Apple cider vinegar
Salt
Pepper
Garlic
Get the recipe from Two Sleevers.
—
16. Low-Carb Chicken Kabob Marinade
This marinade is a great recipe to use if you're in a time crunch. Unlike most, this one does not require a long period of time to marinate, as the marinade is applied during cooking!
This recipe was created kabobs in mind, but you can also use it for regular chicken breasts or chicken thighs! Put some of the marinade on the meat before cooking. During cooking, pour the remaining marinade over the meat and cook for a brief time.
Just like that, you have delicious, marinated chicken!
Ingredients:
Olive oil
Lemon juice
Garlic powder
Oregano
Worcestershire sauce
Get the recipe from Moscato Mom.
—
17. Apple Cider Vinegar Chicken Marinade
This apple cider vinegar chicken recipe is absolutely delicious, and more than perfect for the fall and winter seasons! The tasty, juicy chicken that this marinade creates is perfect for pairing with salads, veggies, and even fall-approved comfort foods like mashed potatoes or low-carb stuffing.
To make this marinade you will need olive oil, lemon juice, apple cider vinegar, and spices. You probably already have most of those ingredients on-hand, so making this recipe should be a breeze!
When all is said and done, this delicious marinated chicken recipe only contains 2 grams of net carbs per serving. It's such a wonderful keto marinade for chicken, and you're going to love it!
Ingredients:
Olive oil
Lemon juice
Apple cider vinegar
Garlic
Fresh basil
Fresh parsley
Fresh rosemary
Fresh thyme
Salt
Pepper
Get the recipe from Easy Family Recipes.