Looking for healthy recipes with ground beef? We've gathered 15 of the best to help you plan your meals in advance and stick to your health goals without boring your taste buds.
The dishes that we've included on this list include casseroles, salads, soups, and other flavorful dishes that use lean ground beef as its main ingredient. Whether you need creative ways to get more protein on your plate or just want to shake up dinner time,  you're going to want to check out these delicious ground beef recipes that are sure to be a new family favorite
Bonus: Our list include recipes that are perfect if you are on a Weight Watcher plan. Yes, you heard that correctly, our recipes are both healthy and Weight Watcher friendly? 
1. Big Mac Salad
Salads should never be bland or tasteless! This meaty salad recipe will not only satiate your hunger, but it will also help you follow through with your daily point allocation while giving you the juicy Big Mac flavors you know and love.
Now, unlike the fast-food version, this one has significantly lower calories per serving and is much more nutrient-dense!
You can enjoy this as a side dish or entirely on its own as a main dish. No matter what you decide, you're going to love each bite! 
Get the recipe from The Pound Dropper.
—
2. Beef Stroganoff Bubble-Up Casserole
What makes this dish stand out from all the other ground beef casserole recipes, aside from its ingenious way of using biscuit dough, is that it's reminiscent of those boxes of Hamburger Helper that you may have grown up eating.
This version, though, has way more flavor and doesn't contain any of those bad shelf-life-extending additives.
If you enjoy everything beefy, cheesy, and savory, then this dish needs to be added to your weekly menu!
This recipe yields 6 servings, each with only 260 calories and a whopping 26 grams of protein per serving!
Get the recipe from Lite Cravings.
—
3. One-Pot Cabbage Casserole
Cooking with cabbages can be hit or miss, especially if you don't particularly like the flavor of this vegetable. Luckily, this cabbage casserole is overflowing with creamy, cheesy, and beefy goodness that will delight even the pickiest of eaters.
We should also note that this dish only requires ONE pot! Great taste, convenience, and minimal dishes? That sounds like a good deal!
Get the recipe from Diary of a Recipe Collector.
—
4. Mexican Beef Skillet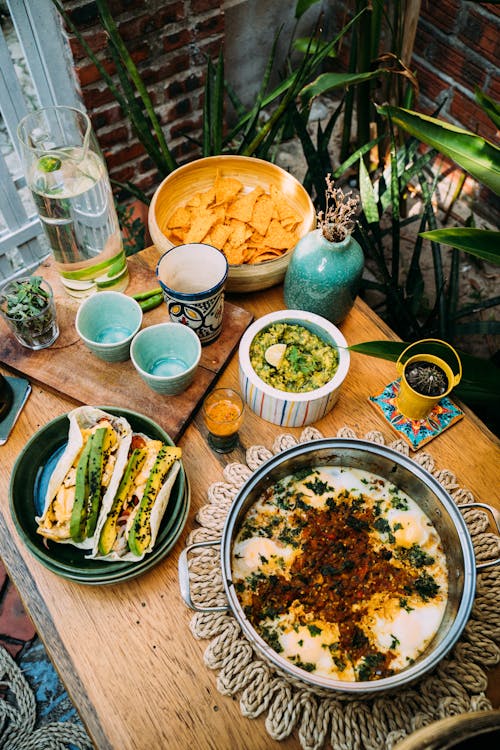 This Mexican-inspired beef casserole is as easy as it gets but does not skimp on any flavor. It's full of nutrient-rich ingredients that just adds to this dish's charm!
If you're wondering what it tastes like, we would liken it to a deconstructed burrito, except this one will not fall apart every time you take a bite!
It also only requires one pan to prepare so you're bound to make about 80% less of a mess than you would with a traditional burrito bar when you serve this to the family!
Get the recipe from Nesting Line.
—
5. Cheesy Cajun Beef and Potato Bake
We always recommend opting for  a lean ground beef healthy recipe.  That's just what this delicious cheesy beef and potato bake calls for. 
This recipe has an 8-serving yield and is absolutely perfect for big families, meal prepping, or if you're purely just a casserole fan!
Get the recipe from Emily Bites.
—
6. Cheesy Beef and Pasta Casserole
You don't have to miss out on pasta when you have healthy meals with ground beef  like this one at your fingertips!
What takes this casserole the next level is the perfect sauce to pasta ratio. Each bite is bursting with flavor and, the best part? You will get an extra boost of vegetables by sneakily adding zucchini, so if you have picky eaters in the house, you can provide a boost of nutrients without sounding any alarms!
If you're looking for a recipe that's quick and easy, but also delicious and healthy, you should definitely give this a try! 
Get the recipe from Recipe Girl.
—
7. Tomato, Beef, and Macaroni Soup
Why is it that eating a bowl of soup soothes the soul? Whatever the reason is, we believe it's important that you have a satisfying and fail-proof recipe in your repertoire for the times you want to make soup for yourself or your family.
We think you'll love this tomato, beef, and macaroni soup because it:
Takes only 5 minutes to prepare;

Requires just 30 minutes of cook time;

Will yield approximately 8 1½-cup servings;

Contains minimal low FreeStyle SmartPoints; and

It's easy, delicious food that won't break the bank!
If that doesn't convince you to try it out, we don't know what will!
Get the recipe from Rachel's Healthy Plate.
—
8. Cheeseburger Soup
This ground beef cheeseburger soup captures the essence of your favorite cheeseburger in terms of its flavor, while also helping you stay toasty and warm as you enjoy a bowl!
You can cook this soup using your slow cooker, which is really useful for folks who are busy and need to quickly whip something tasty together for weeknight meal!
Get the recipe from Recipe Diaries.
—
9. Homemade Hamburger Helper
Here's a family-friendly recipe that's a perfect fit for those who are looking to eat on the healthier side..
Unlike the ones you find in the stores, this version of Hamburger Helper is considerably healthier because you have complete control over the ingredients and the seasonings you use. This recipe is an homage to the Chili Macaroni Hamburger Helper flavor that you can jazz up with a little bit of cheddar cheese or with some Greek yogurt.
You can make this on a stovetop, using an instant pot, or even a slow cooker! It's a really handy recipe to have on-hand when you've run out of dinner ideas. 
Get the recipe from My Crazy Good Life.
—
10. Cheeseburger Mini Meatloaves
This mini cheeseburger meatloaf recipe works great as a midday snack or even as a flavor-packed appetizer! You won't even have to break a sweat to make these!
You simply need to mix up the ingredients, transfer them to individual cavities of a muffin pan, and bake. Once they finish cooking, you can top it off with a pickle chip (or two, up to you!), along with some of your favorite condiments, like ketchup and mustard!
Get the recipe from Hungry Girl.
—
11. Pasta Bolognese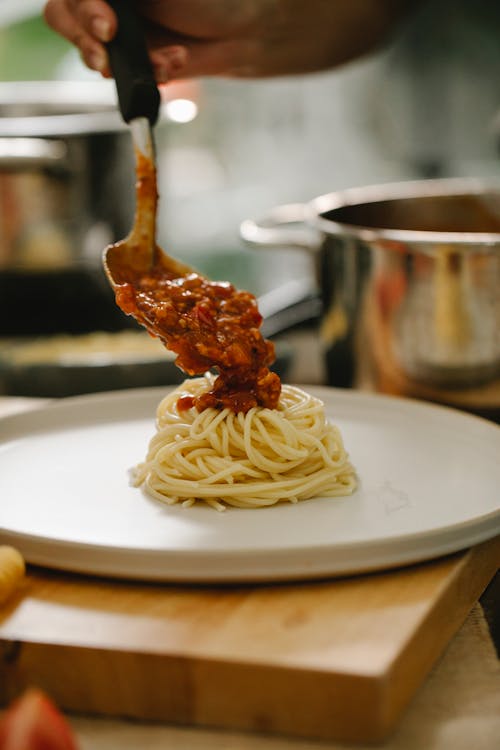 Looking for a filling and flavorful date night dish? This pasta bolognese is here to save the day!
The pasta is filling. The sauce is bold with flavor. Each bite is satisfying. Have we convinced you yet?
This amazing comfort food dish requires ingredients you likely already have in your kitchen, takes just 10 minutes to prepare, 40 minutes to cook, and will result in 4 hearty servings.
Get the recipe from Pointed Kitchen.
—
12. SkinnyItalian Zucchini Boats
If the taste of vegetables is what's keeping you from actually eating them, these zucchini boats are a phenomenal way to sneak some greens into your diet!
Each zucchini boat is packed with Italian-inspired ingredients; it's like enjoying pizza slices, except the dough is made from zucchini! These tasty boats are low in calories and low in fat.
This recipe will yield 4 zucchini boats, so it's good for sharing with your family or if you just like to meal prep to have food ready in advance for you to enjoy throughout a busy week.
Get the recipe from Huffpost.
—
13. Skinny Meatloaf
Can we just take a moment to agree that meatloaf is an essential part of family dinner menus? Seriously, how many times have meatloaves saved us during busy work weeks when all we had was a little over an hour to prepare a meal?
Now that you've realized just how amazing they are, we think we have your next favorite recipe!
This skinny meatloaf recipe is not only quick and easy, but it also results in flavor-packed meat every single time. So, what makes this meatloaf perfectly juicy even though it's made with lean ground beef (context: lean meats tend to be drier than fattier cuts)? The secret is... whole wheat breadcrumbs!
Don't just take our word for it, you've got to taste this meatloaf to believe it. Plus, with a recipe that yields 10 total servings, this dish is the perfect pick for family dinner night.
Get the recipe from Skinny Kitchen.
—
14. Beef Stroganoff
What's better than enjoying a classic dish like Beef Stroganoff? It's a wonderful balance of savory and creamy!
We think you'll especially appreciate this recipe because the Weight Watchers points amount to a reasonable 10, and that's for a hearty 1 ½ cup serving!
Go on and add this to your list of fancy healthy recipes with ground beef, you will thank us later!
Get the recipe from My Crazy Good Life.
—
15. Slow Cooker Chili
You can't have a healthy ground beef recipe roundup without a tasty slow-cooked chili recipe! If you enjoy dishes that are packed with flavor and spice in each bite, this is going to be a match made in heaven!
You'll need to use 93/7 ground beef, meaning the meat contains 93% lean with 7% fat. This type of ground beef is lean and should fit well into your daily SmartPoints allowance.
We especially love this particular recipe because you can easily cook it on your stovetop, in a slow cooker, or an Instant Pot.
Get the recipe from Food, Fun & Faraway Places.