750
Calories per serving
15
Minute prep time
$10
Average cost
Make a romantic dinner at home this Valentine's Day with this reimagined pasta carbonara that makes for the perfect meal for two! Swap out the traditional bacon typically found in carbonara pasta for Sea Salt Beef Chomps to give this cozy dish more clean protein with the same satisfying flavor.
Extra creamy and easy to make, this carbonara pasta for Valentine's Day pairs perfectly with a side of asparagus or green beans for a well-rounded, healthy Valentine's Day meal. Cooking together is an act of love in my book and I believe memories are made in the kitchen. Turn on some music and whip up this cozy and delicious Valentine's Day meal at home!
Recipe
Ingredients:
1lb bucatini pasta or pasta of your choice

2 eggs

2 egg yolks

¾ cup parmesan cheese, grated

2 Chomps Sea Salt Beef meat sticks, chopped

Salt and pepper to taste
Directions:
Bring generously salted water to a boil in a large pot. Add bucatini and cook until al dente, about 10 minutes.

While the pasta cooks, whisk the eggs, egg yolks, about half the cheese and a pinch of salt together in a bowl big enough to fit the pasta.

Drain pasta, reserving about ½ cup pasta water. While it's still hot, add the pasta to the bowl. The heat of the pasta is what heats the eggs sufficiently to create a creamy pasta sauce.

Toss to combine, adding the chopped Sea Salt Beed Chomps meat stick and remaining cheese.

Top with freshly ground black pepper, serve and enjoy!
🔥 Get more! 🔥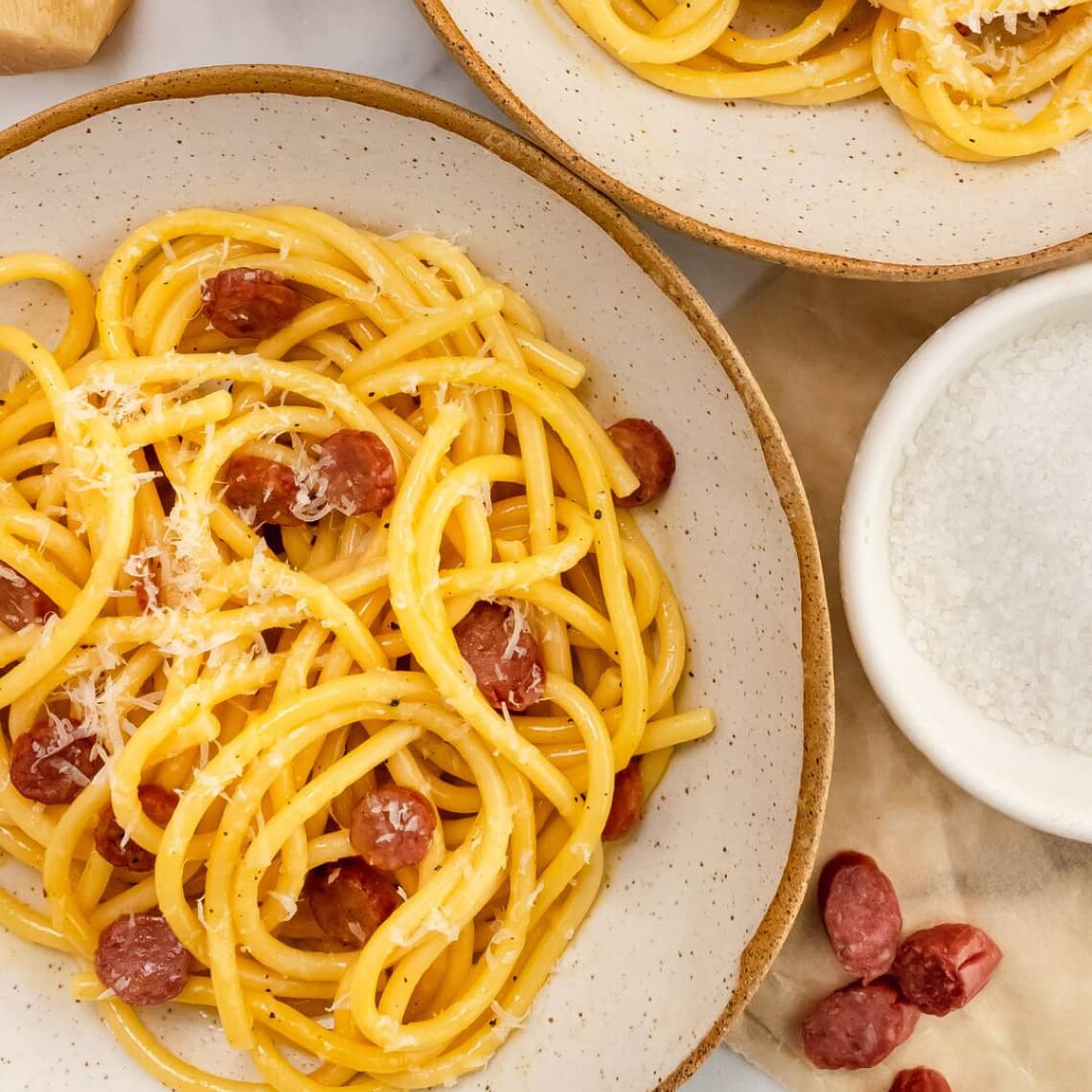 🔥 Get more! 🔥